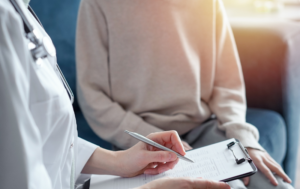 Pre-existing conditions can lead to frustration when searching for health insurance and are often a significant topic of debate. Many health insurance plans refuse to cover healthcare costs related to pre-existing conditions, making it difficult for people to find quality care and support in managing their health concerns.
Fortunately, the right healthcare plan can make all the difference in providing individuals with medical conditions the coverage and resources they need to manage their health. At Redirect Health, we create a strong connection between direct health insurance and pre-existing conditions to provide our members access to the right resources.
What Are Pre-Existing Conditions?
A pre-existing condition is any health problem you already had before you began coverage with a new insurance plan. Different insurance providers may have slightly different definitions. How each provider defines these conditions often determines who they will cover.
Common examples of pre-existing conditions include:
Asthma
Cancer
Congestive heart failure
Diabetes
Pregnancy
Sleep apnea
Severe mental disorders
Although these are some examples, there are many other health problems that can qualify as a pre-existing condition. It's essential to understand how a health insurance plan handles these conditions before you sign up, especially if you, a family member, or an employee have a potential medical concern that could affect coverage.
Pre-existing conditions lead to more frequent medical visits, which add up, leading to more expenses. As a result, many insurers avoid covering pre-existing conditions because of the cost. However, there are still some providers who offer additional options to cover their members with pre-existing conditions.
In 2018, it was estimated that as many as 54 million adults in the US had a pre-existing condition. Since then, that number has likely only grown. With so many people affected, it's important that there are ways to find affordable, reliable coverage for people in these situations.
The Affordable Care Act requires all Marketplace plans to cover treatment for pre-existing conditions. Under the law, these plans cannot reject or charge people with pre-existing conditions more. However, there are many ways to obtain coverage outside of the health insurance Marketplace, so it is important to know what to look for in a plan if you or someone in your family has a pre-existing condition.
Redirect Health's Coverage for Pre-Existing Conditions
At Redirect Health, we believe healthcare coverage should be available to everyone. To provide care for our members with pre-existing conditions, we offer our traditional health plans and Medical Cost Sharing. This program helps protect Redirect Health members against high-dollar medical expenses by sharing health costs through our member community.
We consider a condition pre-existing if symptoms or treatment occur within the 12 months  prior to joining our Medical Cost Share. If eligible, members can contribute to the community and receive support depending on how many people are covered by your plan.
As part of the Medical Cost Sharing Community, you and your family contribute a monthly payment. In the event of an eligible medical need, you will pay the Initial Member Responsibility and then submit the remaining bills to the Community.
Members pre-existing condition becomes eligible for cost-sharing based on their tenure with Redirect Health. After a member's first 12 months with Redirect Health, their condition is eligible for Medical Cost Sharing
Redirect Health Team: Want to verify that this is still accurate.
| | |
| --- | --- |
| Time After Membership Effective Date | Shareable |
| First 12 months | Not shareable |
| Months 13-24 | Shareable to $25,000 |
| Months 25-36 | Shareable to $50,000 |
| Month 37 and after | Shareable to $125,000 |
We also offer advanced coverage, as there are also several conditions we do not consider pre-existing that other plans would. When reported prior to your membership effective date, many conditions will not prevent you from receiving the full benefits of a Redirect Health plan. Some examples of these conditions include:
Controlled diabetes
Hypertension
High cholesterol
Seasonal allergies
Intermittent asthma
We do everything we can to provide the widest coverage for our members. In addition to Medical Cost Sharing, our members also have access to our low-cost preventive care offered through our two individual plans.
Enrolling in Redirect Health's Direct Health Insurance Plans
Whether you are looking for support managing a pre-existing condition or just need quality health care, you can turn to Redirect Health to simplify your healthcare.
Redirect Health offers two healthcare plans to make access to quality care simple and straightforward—iEverydayCare® and iEverydayCare Hospitalization. Both options connect you with quality support at affordable rates, allowing you to choose which coverage suits you and your family's needs best.
Our iEverydayCare® plan covers:
Virtual and in-office primary care
Urgent care
Annual physicals
12 free chiropractic visits per year
X-Rays
Labs
Free mental health tele-counseling
iEverydayCare® Hospitalization offers all the same benefits plus:
Inpatient and outpatient hospital care
MRI, PET, CT Scans, ultrasounds and other imaging
Specialist consults and care
Both plans come with comprehensive support offered by our care team. Whenever you need care, you can initiate a request through the Redirect Health Member App, and we will be there to assist you with your medical need.
Managing Pre-Existing Conditions with Redirect Health
We do whatever we can to support everyone in their healthcare journey. Access to routine care and the right resources is essential for managing pre-existing conditions and maintaining your overall health and wellness. Redirect Health helps you manage your health in several ways.
Preventive Care
An integral component of effective health care is staying healthy before having to worry about health concerns. Part of our coverage at Redirect Health includes offering no-cost preventive care to all our members. With this support, our members can save money while managing their overall health.
Important preventive care procedures include:
Blood pressure screenings
Regular check-ups, either virtual or in-office
Immunizations
Mental health counseling
We believe in the importance of holistic health, which is just as crucial in managing pre-existing conditions as treatment for the conditions themselves. By prioritizing routine preventive care, we allow our members the chance to control their symptoms and prevent new conditions from popping up.
Access to Prescriptions
Part of managing your pre-existing conditions is having access to the right medication. At Redirect Health, we also provide coverage for a long list of prescriptions, allowing you to manage your condition. Before signing up for a plan, it is important to see which prescriptions we cover so that you can plan accordingly and determine which plan is the best fit for you.
To figure out which medications we cover, explore our prescription formulary. Coverage varies depending on the medication, your Redirect Health plan, prescription quantity, and pharmacy location. Altogether, we aim to provide you with the support you deserve in managing your pre-existing conditions.
Care When You Need It
Our Care Team is available 24/7/365 through the Redirect Health Member App. Members can also reach our team through a call or text at 888-407-7928. Even better, you can always expect personable service and care.
With Redirect Health, you don't have to worry about receiving an automated answering machine—you can expect a real person to pick up the phone and connect you with the care you need. We will take the weight off your shoulders, providing you with friendly service while finding you the right level of care to address your medical needs.
Our Care Team is ready to provide you with the proper support for your health concerns. Once you initiate a medical inquiry, our team will help coordinate all aspects of your care, from connecting you with a medical provider to scheduling the appointments.
Affordable and Comprehensive Coverage for Individuals with Pre-Existing Conditions
Our priority is connecting our members with quality healthcare and making it affordable so that everyone has access to coverage. Our Care Team features industry experts and uses data-driven technology to navigate the uncertainties of the healthcare system and keep costs low. By helping you find the right level of care for your specific health needs, we help you find the appropriate care at the right price.
Redirect Health plans make health coverage simple. Receiving top-notch care is as easy as following three steps.
Contact us through the Redirect Health Member App whenever you have a health concern or medical need
Connect with a medical provider either virtually or in person while leaving it up to us to coordinate payments and billing inquiries
Expect a follow-up from the Redirect Health team to ensure you receive the care you need
We make accessing care easy, with over 700,000 available providers across all 50 states. If you'd like, you can also choose to stick with your current provider. From start to finish, Redirect Health navigates you through the complexities of the healthcare system to get you the proper care at the right price.
Find Affordable Health Insurance with Redirect Health
Finding quality health insurance coverage with pre-existing conditions can be a challenge, but with the right support, you can get connected to the resources you need. Redirect Health is committed to providing our members with affordable and comprehensive healthcare coverage. Through our Medical Cost Share program, everyone eligible can access quality care with protection against high-cost medical expenses.
No matter your needs, you can rely on Redirect Health to support you every step of the way with exceptional service when coordinating your care. Getting started with Redirect Health is as simple as entering your information and receiving a quote. Contact us today to learn more about how you can benefit from a Redirect Health plan.