While the Arizona summer heat is still upon us, summer has wound down for most families and the new school year is upon us. Preparing for a new school year involves a checklist of all the essentials: backpacks, school supplies, and new clothes. While there's no doubt these items are important, Janice Johnston, M.D., medical director for Redirect Health, says there's more to consider as you get your kids ready to start the school year. Dr. Johnston reminds parents of the following back-to-school safety tips.
Backpack safety
Children and teenagers have been sporting backpacks for decades, and when worn correctly, they help to distribute the weight of books and school supplies evenly. However, when packed full to the brim or worn incorrectly, backpacks can create spine or muscle injuries, posture issues and chronic pain that can linger long after an adolescent is done wearing the backpack. Make sure your child's backpack weighs no more than 15 percent of his or her weight. Additionally, parents should encourage their child to use both straps as well as clean out and repack the backpack each night, ensuring the child isn't carrying around unneeded items. While the cost of school supplies can add up quickly, never settle for a cheap backpack that may pose a danger to your child.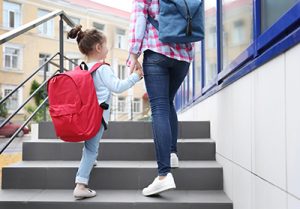 Healthy eating
After going to barbecues and eating ice cream all summer, it can be hard to get your kids back on track and eating balanced meals. However, nutritious meals are integral to your child's growth and learning. Rather than reaching for unhealthy breakfast options like sugary granola bars, frozen waffles or cereals, opt for healthy alternatives like fresh fruit, oatmeal and whole grain toast with a nut butter of their choice. Other healthy ideas include a chocolate, banana and peanut butter milkshake or a green smoothie with spinach, berries and almond milk. For a simple lunchbox favorite, layer turkey, cheese and avocado in a whole wheat wrap and roll into a pinwheel. Pair your child's lunch with a handful of chocolate-covered almonds for a simple and sweet after-lunch treat. Lastly, encourage your kids to stay hydrated, which is crucial to sustaining energy.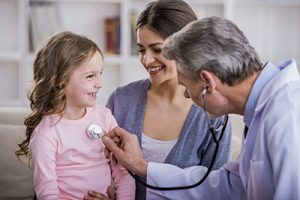 Physicals
An annual physical is crucial to keeping tabs on your child's growth and development, and there's no better time to get it scheduled than prior to the start of a new school year. During a physical, your family practice provider will make sure there are no health complications that could interfere with your child's success at school, such as overall health, vision and hearing issues. Your child's doctor should do a thorough physical exam, listen to any concerns you may have and recommend necessary tests and screenings that are crucial in assessing your child's risk for future problems. This is also a great time to make sure your child's required vaccinations are up-to-date.
All parents have a goal of keeping their kids healthy and injury-free throughout the year so that they can experience and learn as much as possible. Annual doctor's visits, nutritious meals, and encouraging backpack safety are great first steps toward a successful school year.