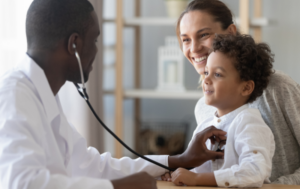 You always want to protect your family, and one of the best ways to do so is to ensure your family has the best healthcare coverage possible. However, it can be difficult to navigate the health insurance process and find a plan that will account for your family member's unique needs.
As you explore family health insurance plans, you have a lot to consider. Fortunately, understanding your coverage options, required payments, and available plans will make the process easier.
Navigating Coverage Options
When it comes to finding family health insurance plans, you have a lot of decision-making to do. The type of plan you choose determines how much coverage you receive and at what cost. Two of the most common plan options are Health Maintenance Organizations (HMOs) and Preferred Provider Organizations (PPOs).
HMOs – HMO plans typically have lower premiums and deductibles, but they only cover in-network services and require a referral for specialists, giving you the benefit of lower prices but with less flexibility.
PPOs – These plans usually cost more, but they allow you more flexibility with your healthcare by enabling you to go out of network and visit a specialist without a referral.
As you weigh your options, you also have to think about other conditions that will impact when you are covered. For example, it is important that you understand network providers. Your network is the group of healthcare providers in an area that accept your insurance and that your plan will cover.
Many plans either will not cover out-of-network care or charge higher copays to see a healthcare provider outside your network. This is an important consideration if you have family members who travel often and may need care out of network.
Some plans also require referrals before allowing you to see a specialist. In these cases, you will have to visit a primary care provider to verify your condition before you can receive a referral to a specialist that handles your needed treatment.
Optimizing Preventive Care
Preventive care is crucial in family plans and plays an important part in keeping your whole family happy and healthy. By ensuring your family members have access to routine care, you can prevent minor issues from becoming big ones.
Preventive care includes:
Regular check-ups
Labs
Immunizations
Mental health counseling
Chiropractic appointments
Programs that support overall wellness
Low-cost preventive care will also help you save money down the line. After all, preventive care is all about keeping you out of the doctor's office in the future. By taking care of minor issues before they become more significant, you can avoid more doctor visits and additional copayments.
Plans like Redirect Health offer $0 member responsibility for routine check-ups, minimizing barriers for you and your family to access the care they need. We believe in the importance of maintaining your holistic health. As part of our preventive care options, we also offer unlimited no-cost mental health tele-counseling and 12 free chiropractic visits per year.
Understanding Deductibles and Copayments
After considering the type of coverage you will need, you should start thinking about costs. Navigating the various deductible and copayment costs is a key part of finding family health insurance plans.
A deductible is the amount you must pay out-of-pocket over a year before your insurance plan will begin to cover your healthcare expenses. Deductibles for families can range anywhere from $0 to $15,000.
Meanwhile, a copayment, or copay, is the amount you have to pay out-of-pocket when you visit a provider. Depending on your plan, copays can range anywhere from $0 to $100 or more. If you see the doctor frequently, it is often best to choose a plan with lower copays.
Each of these costs is dependent on the others. For example, a higher monthly premium will often lead to a lower deductible and lower copays. On the other hand, you can pay lower monthly premiums if you rarely visit the doctor and don't mind the occasional higher copay and a higher deductible. Plans often have an out-of-pocket maximum, which limits how much you have to pay before your provider handles coverage.
If your family is relatively healthy, you may choose a plan with lower premiums to save money. If you have family members that frequently visit a doctor or specialist, it is often better to pay a higher premium to minimize your copays in office.
Redirect Health offers families the best of both worlds. Through our plans, you can enjoy quality coverage at affordable rates. With appointment pre-authorization, routine care comes with a $0 member responsibility. Meanwhile, hospital care for families has a $6,000 out-of-pocket maximum, far lower than most plans.
Making Informed Healthcare Decisions
When searching for healthcare plans, and after, it is essential to be informed about the wide range of terminology and procedures involved in insurance. Concepts like open enrollment, qualifying life events, and provider networks can make things confusing if you don't understand all the lingo.
By staying informed, you can ensure that you are prepared with your insurance and know how to use it if needed. This part is often easier said than done, as the world of health insurance can be difficult. Having the proper support can make all the difference.
With a provider like Redirect Health, navigating health insurance has never been easier. Redirect Health supports you throughout the whole care process. We handle everything from scheduling appointments to coordinating payments and billing inquiries. Our team of healthcare experts are there to advocate for you to ensure the highest quality care at the lowest cost.
Even as an informed consumer, things can get complicated, so we have your back, helping you navigate the ins and outs of the industry. If you have any questions, our Care Team is always available throughout the care process to provide clarity. We will even follow up with you to ensure the care you receive is actually meeting your needs.
How Redirect Health Empowers Families
At Redirect Health, we empower families by providing the services, support, and resources needed to access quality care. We simplify family health insurance plans, ensuring you are covered in the ways that matter while combining the use of data-driven technology and industry expertise to understand market trends and keep rates low.
We prioritize patient-centric care to ensure every family member receives the quality, personalized care they need. Through an innovative approach to healthcare coverage, we connect you to the providers that will offer you the best care at the best price. As a member, you can choose from one of over 700,000 providers in our network across the country, or if you have a doctor you like, you can stick with them too.
Some of the benefits of partnering with Redirect Health include:
Virtual & in-office primary care visits
Hospitalization benefits
No-cost routine care with appointment preparation and pre-authorization
Low copays on prescriptions
12 free chiropractic visits per year
Unlimited no-cost mental health tele-counseling
Our team is always easy to reach whenever you have questions. You can contact us 24/7/365 through the Redirect Health Member App for answers to any questions and support in navigating your care. You can also call or text us at 888-407-7928.
Redirect Health's Healthcare Plans
Redirect Health offers families two options for coverage—iEverydayCare® and iEverydayCare Hospitalization. Both options provide you access to quality care at affordable rates, allowing you to choose which plan suits you and your family's needs best.
Our iEverydayCare® plan covers:
Virtual and in-office primary care
Urgent care
Annual physicals
12 free chiropractic visits per year
X-Rays
Labs
Mental health tele-counseling
iEverydayCare Hospitalization offers all the same benefits plus the following:
Inpatient and outpatient hospital care
MRI, PET, CT scans, ultrasounds, and other imaging
Specialist consults and care
No matter which plan you choose, you can expect full support from our Care Team here at Redirect Health. Getting started with a Redirect Health plan is as easy as entering your information and receiving a quote for you and your family.
Take Control of Your Healthcare Journey with Redirect Health
Finding the right family plan can be a long process with a lot of research. Fortunately, Redirect Health is committed to getting you the coverage you need, offering comprehensive plans for individuals and families.
We don't think healthcare should be complicated, which is why we make access to healthcare simple and affordable for all our members. No matter when you need coverage, we'll be here to support you throughout the whole process, helping you navigate your care by coordinating appointments, filling prescriptions, and following up with you to ensure your needs are met.
Explore our family healthcare plans to learn more about how Redirect Health supports families. Contact us today to start the process.