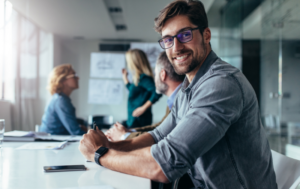 Brokers are always looking to offer the best products to their clients. At Redirect Health, we have the same goal, aiming to provide our members with access to streamlined, quality healthcare. Redirect Health follows a unique model that sets us apart from other health plan providers.
It is the unique processes behind the Redirect Health network that make our service one-of-a-kind. Our model ensures that we can provide affordable healthcare on top of around-the-clock support, resources and tools that make life easier for our members and broker partners. Altogether, Redirect Health provides brokers a chance to offer a quality but affordable product to their clients.
Redirect Health's Unique Healthcare Model
At Redirect Health, we follow a unique healthcare model to provide our members with affordable, convenient, and quality care. We use a combination of data-driven technology and industry expertise to navigate the uncertainties of constantly changing healthcare system trends and keep costs low.
Our Health Plans
We offer two health plans for our members, including ERISA and ACA-compliant plan options, allowing them to choose based on their lifestyle and their family needs. Members can choose between our standard EverydayCARE® plan and our EverydayCARE® Hospitalization plan.
Our EverydayCARE® plan offers little-to-no-cost routine care and medical services, providing coverage for:
In-office and virtual primary care
Urgent care
Labs
X-rays
Mental health tele-counseling
Prescriptions and immunizations identified in our formulary
Meanwhile, our EverydayCARE® Hospitalization plan offers slightly more comprehensive coverage that includes all the above, plus inpatient & outpatient hospital care, medical imaging, and coverage for special consults and care.
We offer plans for both small and medium-sized businesses. Brokers can provide plans for clients with between 2 and 19 employees or for 20 to 200+ employees. Every employee has the option of choosing coverage for just themselves or to include their spouse, children, or whole family.
For our individual or 2-19 business plans, we offer medical cost sharing to members, which protects them against high medical expenses and helps them manage their health conditions.
Our Process
Our model allows us to provide convenient care to our members without complicating the care process. We have a complete Care Team behind our members that helps coordinate medical needs to keep things simple.
To access care, our members simply need to:
Let us know about their medical need through the Redirect Health Member App
Allow us to schedule appointments, coordinate referrals, and organize prescriptions
Arrive at their appointment
Expect a follow-up from our Care Team so we can verify members receive the proper care and attention they were seeking
This model eliminates the guesswork and procedures behind accessing primary care and any other necessary medical care. Our process is simple and straightforward, ensuring that our members are able to obtain care when they need it.
Streamlining Healthcare Delivery with Technology
Technology plays an important role in our processes, helping us to deliver affordable and efficient health to our members. From offering healthcare in the palm of your hands to providing quick access to virtual care, we use technology to provide our members with a seamless healthcare experience.
We add to the experience through the Redirect Health Member App, which streamlines the process even further by offering members 24/7 access to care. Whenever members need healthcare, they can simply notify us of a medical need through the App. Our team is always available through the App or phone call.
You can control your healthcare journey all in the palm of your hand. Our App provides access to all the important things members need, allowing them to access plan details, speak with a medical provider, update personal information, and renew prescriptions all in one place.
As a broker, you have the opportunity to offer clients a streamlined experience that surpasses other plans.
Benefits for Brokers and Clients
The Redirect Health network and our unique model offer a range of benefits for brokers and members alike. Through our many available tools and resources, we make health plans simple and affordable for every employee.
Easy-To-Use Broker Resources
Part of our streamlined processes includes making life easier for brokers too. We support brokers through multiple tools and resources:
Online Store – This online store is customizable to each broker and their agency, allowing for clients to learn more and quickly and easily enroll onto their plan.
Quote tool – This tool allows brokers to create personalized quotes for their clients. This accurate quote tool offers an easy way to provide clients with a clear picture of what they can expect out of a healthcare plan, making it easier to close sales.
Financial transparency – We value financial transparency for our brokers, so we make it easy to view statements, access commissions, and initiate renewals for every client.
We use Employee Navigator to enroll and renew with clients, however we also offer an API integration with other Ben Admin platforms to assist brokers in making their management of clients simpler. Between all of the available broker tools and our consistent support, enrollment is easy, and renewals are seamless.
Low Costs
Redirect Health has a unique structure that cuts out unnecessary administration staffing and wasteful spending while embracing innovation, allowing us to keep member costs low. This leads to low monthly premiums and low out-of-pocket costs. Members also enjoy simple pricing, as our plan options clearly outline monthly rates and out-of-pocket costs, so there are never any surprises. We also allow our members to avoid extreme price hikes as plans roll over from year-to-year.
Our process allows us to deliver no-cost preventive care and medical support, like:
Virtual and in-person primary care
Annual physicals
Unlimited no-cost mental health tele-counseling
12 free chiropractic visits per year
X-rays
A Nationwide Network
One of the most significant benefits of Redirect Health is its accessibility to clients across the country. We offer plan availability nationwide, allowing brokers in any state to connect clients with our plans. We also have TPA, Medical, and Broker licenses in all 50 states, enabling us to serve brokers and clients nationwide with low costs.
Accessing healthcare is easy for your clients too, as the Redirect Health network connects members to over 700,000 available providers. Members also have the option of sticking with their current primary care provider if they already have a doctor they work with. By providing 24/7 access to virtual care, members can access immediate care no matter where they are in the country.
Plus, with no medical underwriting, we make access to coverage quick and seamless so they can get the support they need as soon as possible.
Ongoing Guidance
When you partner with Redirect Health, you are never alone in your healthcare journey. We offer resources to support both brokers and clients as they look to connect employees with quality plans.
On top of our broker resources, we are also here to assist clients throughout the process so they can sign up their employees. We assign a Client Success Advocate for every client to ensure a smooth onboarding process, verify that all the paperwork is together, and provide support throughout their journey with Redirect Health.
This guidance follows through all the way down to our members as they access services. We handle everything, including scheduling appointments, coordinating prescriptions, referrals, and coordinating billing inquiries.
Easy Access to Support
We also strive to make communication simple, helping to minimize the barriers to receiving assistance from our team. With dedicated healthcare consultants ready to provide live support, brokers can maintain peace of mind that they have the help they need when necessary.
Through our 24/7 concierge service, our care team is always available to you. Members can always count on a friendly team of experts that is responsive and ready to assist.
Whether you are a broker, a client, or a members, whenever you pick up the phone, you can expect a real person, not just an automated messaging system. This personal care is why our members often leave testimonies highlighting their positive experiences with our Care Team.
With the support of our team, you can enjoy more convenience and less guesswork when it comes to navigating care or reaching out to new clients.
Find Affordable Healthcare Solutions with Redirect Health
Between our streamlined healthcare solutions and our ongoing support, Redirect Health makes healthcare plans simple for both brokers and clients. We offer comprehensive plans to Redirect Health members, allowing them to choose an option that best fits their lifestyle while providing quality care with no-cost routine care and low monthly rates.
When you partner with Redirect Health, you can enjoy a strong network that allows you to deliver your clients a quality product. We support you from start to finish, enabling you to enjoy smooth enrollments and renewals while keeping your clients happy.
Explore our options for healthcare plans to see the value we provide our members and what products you can offer to your clients. Contact us today to learn more about everything that the Redirect Health network has to offer brokers and how you can start enrolling new clients.