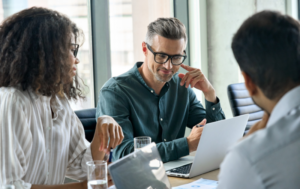 The Redirect Health Broker Sales Guide
According to the Commonwealth Fund, 43% of working-age adults were inadequately insured in 2022. The market is in need of knowledgeable health insurance brokers like you to advise and guide consumers in making the best decisions regarding their health insurance.
Whether you are new to a health insurance brokerage or are an industry veteran, our broker sales guide is here to help. This guide was designed to help you boost your sales success by covering topics that range from understanding Redirect Health's services and target markets to approaching prospects and upselling. 
We encourage you to use the following information to:
Learn key strategies for selling Redirect Health's services

Improve client outcomes

Increase your sales
Be sure to bookmark this broker sales guide for quick and easy reference as you begin selling Redirect Health's services.
What Makes Us Different
You might be asking, "Why partner with Redirect Health?" Allow us to explain.
Our company and our offerings enable you to be better equipped to sell your services to prospects. We believe everyone should have access to healthcare that is simple to use and affordable, which is why we:
Provide businesses with affordable healthcare plans using a partial self-insurance model that complies with the Affordable Care Act

Reduce administration costs associated with traditional insurance plans

Enhance your clients' healthcare experience
How You Benefit
By partnering as a broker with Redirect Health, you have access to the highest-quality products, training, support, and technology in the healthcare marketplace, just a few benefits include:
Broker, TPA, and Medical licenses in all 50 states

No medical underwriting

Easy enrollment and seamless renewals

Affordable Care Act

(ACA)-compliant plans

Dedicated healthcare consultants with live support

BenAdmin Integrations

And much more
You also have access to tools that can make your job easier, including:
Personalized Online Store

,

 to help make selling plans to your clients and growing your business  easier.

Quoting tool

, which helps you create a personalized plan for your clients so they can understand monthly and annual rates and finalize applications

Financial transparency

, giving you the ability to view statements and commissions for all of your clients whenever you need
The Role of Healthcare Brokers in Selling Our Services
Before we dig too deep into our broker sales guide, it's important for you to understand the crucial role you play in selling services that are the right fit for your clients. Knowing your role and the impact you have on the sales process will help you be more effective in selling Redirect Health's services. 
We count on our broker partners for the following.
1. Offer Background Information
Your first responsibility as a healthcare broker is to be an expert on the health insurance market. It is typical for licensed brokers to be able to provide the following to their clients as needed:
Educate the client on the current market

Answer common health insurance questions

Recall insurance laws and regulations

Offer perspective on a variety of policies
2. Present Several Plans for Comparison
You should have a strong working relationship with your client to provide them with a variety of plans that might work for them. Chosen plans should depend on their: 
Budget

Health needs

Situation

Expectations
You should be able to walk the client through each plan and be the expert on the costs and associated pros and cons of each plan being considered.
3. Contribute Ongoing Support
Once the client has selected a plan that best meets their needs, you should offer continued support. The client should feel comfortable with you being their first point of contact when questions arise regarding new or different policies, claims processes, and network limits.
The Purpose of This Broker Sales Guide
Henry Ford once said, "If everyone is moving forward together, then success takes care of itself." We know that selling health insurance can feel overwhelming at times, which is why we believe in moving forward together and assisting you every step of the way. 
With that said, the purpose of this broker sales guide is to provide you with the information and strategies you need to successfully sell our services. Consider this detailed broker sales guide as your roadmap to success in improving your sales and your client's buying experience.
Understanding Redirect Health's Services
To find success as our broker partner, you'll need to understand our services and the benefits and target markets for each. Understanding the services we offer and the value they provide to clients will help you sell our services more effectively. 
We want to equip you with the knowledge you need to confidently discuss our plans with your prospective customers. Consider the following to be your Redirect Health cheat sheet.
What We Offer
When it comes to top-of-the-line health services, we've got you covered. See our first-rate list of services below.
Large Provider Network:

Members can use your doctor or pick one of more than 700,000 nationwide
Prescription Benefits:

Predictable copays of $10, $25, $50 or $100

*Copays depend on dosage, quantity and location

Mental Health Services:

We offer unlimited, free mental tele-counseling visits included with every plan

Chiropractic Services:

Members enjoy 12 free visits per year included
Additionally, we also provide:
Plans with no medical underwriting for seamless enrollments and renewals

Rate sustainability and confidence with no unexpected renewal increases

Support from a dedicated Client Success Advocate for each client

Marketing and creative support to help you grow your agency
The Benefits of Using Redirect Health's Services
Redirect Health offers benefits that will help you save costs and improve health outcomes for your clients.
We offer an open network, which gives plan members the peace of mind that they'll be taken care of by a provider they can trust, whether they're at home, the doctor's office, or on the road. 
Our open network offers:
Virtual medical providers available by phone 24/7/365
Redirect Health offers members unlimited access to providers on-demand at no cost to them. Simply schedule a call in the Redirect Health Member App, and a provider will reach out at your preferred time.
Nationwide network access on par with the largest insurers 
Redirect Health leverages an open network made up of direct-contract partners along with the Multiplan PHCS Network to provide members with access to over 700,000 doctors and facilities nationwide.
The ability to add your own doctor
If a member's doctor is not part of the PHCS Network, they have the ability to add their own provider to the Redirect Health Network so they can feel at ease making the switch.
Other benefits we offer include:
National direct primary care for virtual and in-office visits

Labs and immunizations with simple and affordable pricing

Free mental healthcare, including tele-counseling

Hospitalization with protection from high medical costs

Low-cost prescriptions

Routine primary care visits at no cost

24-hour concierge services 

12 free in-office chiropractic visits per year
Overview of Target Markets
Of course, we couldn't write an effective broker sales guide without highlighting your target markets. 
When selling our services, there are two target markets to keep in mind: 
Small-medium sized businesses

Self-insured employers
Our services are best suited for these markets because we offer clients comprehensive, sustainable healthcare that doesn't have double-digit premium hikes year over year.
Understanding your target markets and their needs will help you effectively communicate the value of Redirect Health's services to just the right prospects and lower your customer acquisition costs.
Preparation for Selling Redirect Health's Services
Before selling Redirect Health's services, there are some key steps you need to take in order to prepare. Preparation is a crucial part of any sales process, and we're here to help you build your knowledge base, understand the competition and develop a sales strategy.
1. Build Your Knowledge Base
To demonstrate your expertise to your clients, consider building your knowledge base with the following resources.
Familiarize yourself with both our

Broker Guide

and

Broker Sales Kit

Stay up to date on the latest Redirect Health news, tools, services and technology

Connect with your colleagues to understand how they are positioning the products

Attend regular training and professional development opportunities
2. Understand the Competition
Define what sets you apart by asking yourself the following:
Who are my competitors?

How do my services compare to those of my competitors?

What are my competitors' sales approaches and outcomes?

How does my pricing compare to that of my competitors?

How can I offer my clients more at a lower cost?
Understanding your competition and their offerings will help you position our services in a way that differentiates us and provides value to your prospects.
3. Develop a Sales Strategy
Next, create a well-developed sales strategy that is tailored to the needs of the target market. This will help you approach prospects with a clear plan and make a compelling case for Redirect Health's services. 
Use our general outline below to get started.
Research your target market

to uncover your ideal client

Understand the competition

to establish yourself as a leader in the field

Identify key selling points.

Redirect Health's services are unique and offer a wide range of benefits to our clients. Be sure to highlight these differences as selling points in every pitch.
Review and refine your sales strategy to determine what has been beneficial and what has been detrimental. After you have surveyed your strategy, refine your process to better meet the needs of your business and your clients.
Approaching Prospects and Making the Sale
Next for our comprehensive broker sales guide, let's touch on best practices on how to approach prospects and make a sale. The tips in this section will help you:
Build a trusted and meaningful relationship with prospects

Position Redirect Health's services in a compelling manner

Overcome client objections

Close the sale
Building a Relationship with Prospects
Building a strong relationship with prospects helps you to establish trust. You can develop a rapport with your prospects by focusing on:
Transparency

Regular communication (consider sending newsletters or email campaigns for regular touchpoints)

Personalized follow-ups, phone calls, and meetings

Customer feedback opportunities
Knowing how to sell our services is obsolete if you aren't able to create an aura of trust surrounding your services. Get to know your client, and let them see you are genuinely there to help them find the best healthcare for the lowest costs based on their unique situation.
Presenting Redirect Health's Services
When presenting our services to prospective clients, you want to ensure you are doing so in the most effective and compelling manner. Here are a few tips for presenting our services:
Come into each conversation rehearsed, organized, and prepared

Highlight the benefits of Redirect Health's services (use the earlier sections in this broker sales guide as a cheat sheet)

Tailor your presentation to the needs of each prospect
Overcoming Objections
It's important to keep in mind that common objections may arise during the sales process so that you are prepared to handle them gracefully. Here are a few tips for overcoming them:
Actively listen to the objection

so that you know exactly what the issue is and your client feels heard and cared for.

Be sure that you understand the objection fully

by repeating back to the client what you heard to avoid miscommunication.

Respond accordingly

, offering a solution to the issue or an immediate plan to resolve the issue.

Be sure that the objection has been fully resolved

before moving forward.
When objections do arise, always remember to emphasize the value Redirect Health's services bring to the table. This is a great time to demonstrate your expertise.
Closing the Sale
Finally, let's talk about closing the sale, securing a client, and your commission.
There are many different ways to ask for a sale, but we recommend always asking directly. Being direct proves to the client that you are there to be transparent and straightforward. 
Some helpful phrases you might choose from when asking prospects to buy include:
"Would you like to move forward with this plan?"

"When would you like to begin implementation?"

"Would you like to move forward with plan A or plan B?"
Overcome any final objections
If a prospective client has any final objections, address them immediately and directly. Be sure to listen to and validate their concerns. Always be ready to offer solutions.
Once you have sealed the deal, it's important to proactively offer opportunities for continued support. Go ahead and set a date for a follow-up. 
Commission Information
The Redirect Health commission schedule is as follows:
Group plans

with a minimum of five eligible employees ensure you 6% nationwide. This commission is paid on the 15th of each month.

Individual and family plans

ensure you 10% nationwide. This commission is also paid on the 15th of each month.
Ongoing Support and Upselling
Once you have fully established your relationship with a client, you should focus on providing ongoing support and opportunities for upselling Redirect Health's services.
This can help you ensure that clients are satisfied with their services and that they continue to use and recommend Redirect Health's services to others.
Importance of Providing Ongoing Support to Clients
Providing ongoing support helps to build trust and loyalty. Opportunities for ongoing support might include:
Working with the client to reflect on their previous enrollment and making adjustments as needed

Being the expert on healthcare literacy when your client has questions

Consistently offering free educational information to clients through newsletters or other communications

Following up after meetings via phone call or email
Regular communication and follow-up can also help to identify any issues that may arise and provide opportunities for upselling additional services.
Build a Strong Relationship with Clients
Having a strong relationship with clients is essential in being an expert health insurance broker. To build and maintain strong relationships with your clientele:
Effectively and consistently communicate

Maintain a positive outlook and attitude

Share knowledge freely when possible

Maintain a

customer-centric

outlook
By regularly checking in with clients and proactively addressing any issues that may arise, brokers can continue to establish themselves as a valuable resource. 
Identifying Opportunities for Upselling
As a broker, your sales opportunities don't end with an enrollment. You can always look for opportunities to provide additional services that improve your clients' overall health outcomes or reduce costs. This is essential to continue to grow your business with Redirect Health.
Some tips for upselling are listed below:
Always be collecting information on your clients.

The more you know about your client, the better you can tailor your sales pitches to them and their unique needs. 

Consistently highlight benefits

that match your customer's needs.

Remember that upselling opportunities are more likely with your long-term clients.

You know these clients and their needs better than your newer clients and have already built a foundation of trust. It is always beneficial to play the "long game" when it comes to upselling.

Monitor customers who have made previous claims

. You can use information from previous claims to identify the additional needs a client might have.
Best Practices for Selling Redirect Health's Services
Stay Organized and Track Your Progress
In order to monitor and reflect on your sales and strategies, we recommend staying organized and tracking progress in your sales process. Below we have some key guidelines for managing leads, client interactions, and sales activities effectively.
Managing Leads
Generate leads

through ads, articles, PR campaigns, and/or B2B/B2C marketing strategies.

Monitor leads

by analyzing demographics, keeping an eye on their current position in the lead pipeline, and monitoring their engagement with you.

Nurture your leads

by sending follow-up emails or making follow-up calls. Additionally, you could deliver free educational content to your leads regularly, establishing yourself as an expert in your field and building rapport.
Managing Client Interactions
Plan ahead of time for your client communication, whether that be communication via email, phone calls, or scheduled marketing campaigns.

Store noteworthy client interactions in one place so that you can easily find them later for follow-ups or continued marketing.
Managing Sales Activities
Define sales roles and responsibilities

Nurture your leads

Always set a solid first contact

Plan follow-ups

Automate marketing or contact when possible

Create email templates and sales scripts

Monitor everything you do

Ensure that you are setting clear goals and regularly reviewing progress to make adjustments to your sales strategy if necessary.
Build a Strong Network of Contacts
Think of networking as an investment in your business. As a health insurance broker, it is important to build and maintain a strong network of contacts in order to be successful in selling our services.
Ideas for effective networking include:
Attending industry events

Connecting with colleagues and potential clients on LinkedIn

Staying in touch with past clients and referral sources
When you have a strong network, you have the potential for increased opportunities for referrals and a greater pool of potential clients.
Continuously Educate Yourself
Continuous education is critical for broker sales success. In order to stay updated on the industry, you should:
Keep up with industry trends to provide your clients with the most recent news and changes

Learn about new Redirect Health products and services so that you can better assist your client and boost your sales

Participate in Redirect Health training through weekly webinars for brokers and subscribe to our monthly broker newsletter.
Ongoing education can benefit you by providing you with:
Improved sales skills

, which will increase your cash flow

Increased knowledge of the industry

, allowing you to be a leader in the field

The ability to offer more comprehensive solutions

to clients, making you their trusted expert
Maintain a Positive and Professional Attitude
Dr. Martin Seligman, known as the father of positive psychology, found that insurance sales agents who scored in the top 10% of his positivity assessment sold 88% more than their counterparts who scored in the bottom 10%. Maintaining a positive and professional attitude will help you win the sale when it comes to Redirect Health's services.
Best Practices
Be polite:

Be courteous and understanding while knowing your client's goals and practicing active listening.
Be punctual:

Be on time. Your clients are counting on you. Being somewhere when you say you will be there will help build rapport with your clients.

Be well-prepared:

Ensure that you are prepared and rehearsed for presentations, meetings, and pitches. Doing so will make you feel and present yourself with confidence.
Final Thoughts
So, what are the key takeaways from our broker sales guide?
Know Your Stuff
Be sure that you are ready and qualified to sell. Stay up to date on: 
The latest healthcare news

Healthcare technology

All relevant insurance laws and regulations
Partner with Us
Partner with us to sell our services and receive commission. By working with us, your clients have access to:
Nationwide network access on par with the largest insurers with the ability for members to add their own doctors

Plans with no medical underwriting, making for easy enrollment and seamless renewals

Plans with low premiums and deductibles that result in higher participation for your clients and higher commissions for your agency
Maintain Best Practices
For optimal success, follow these best practices:
Be organized

Build connections

Stay knowledgeable
Expect Success
We hope that the information in this broker sales guide and the tips we have provided will give you the insight you need into the field, its future, and what it takes to be successful selling Redirect Health's services.
Interested in growing your agency with affordable healthcare? Visit our broker site for more information on becoming a partner.