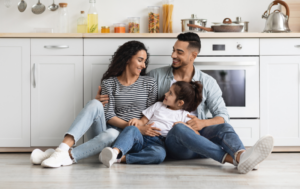 Exploring health insurance for your family is a big responsibility—as it protects your family, your income, and your savings. The costs of healthcare are high, and without insurance, your family might not be able to access the care they need. Of course, the right health insurance coverage is essential for receiving quality care, but you also don't want to break the bank, giving you a lot to consider.
Fortunately, researching health insurance plans and knowing what to look for can make the process much easier. At Redirect Health, we offer family health insurance plans that fit your budget and provide you with access to quality care. This guide will cover everything you need to know about choosing family health insurance plans that provide the best value for affordable coverage.
How To Find Health Insurance
Searching for health insurance is a little different from searching for a home or auto insurance, as there are several pathways that you can take to obtain it outside of just shopping for any plan. You can find health insurance through multiple avenues.
Employer Plans
Many people receive health insurance through plans offered by their employer. There are some drawbacks to this method, though. The first drawback is that not everybody has an employer that offers health insurance.
At the same time, employer plans also still require you to pay a monthly premium that comes out of your paycheck. In many cases, people find it cheaper to search for a plan elsewhere than opt-in to their employer's family health plan.
Government-Sponsored Coverage
In some situations, government-sponsored coverage is an option for families. Medicare is one of the most common government-sponsored insurance options for older adults, but it does not offer insured plans for couples or families.
Many state governments also offer low-cost or free health insurance coverage for families and children through Medicaid or the Children's Health Insurance Program (CHIP). Although, the qualifications to receive Medicaid are different for every state, and not everyone qualifies.
That said, there are many people who do not qualify for Medicare who are still priced out of other health insurance plans. In these cases, it is helpful to have the option to look elsewhere and find a more affordable option.
Direct Plans
For people who do not have employer health insurance and find that government Marketplace plans are not a good fit for them, there is the option to shop for health insurance directly. Oftentimes, people prefer to search for family health insurance plans on their own to find a plan that is more affordable and provides more value.
For example, Redirect Health offers family health plans at affordable rates to simplify access to healthcare coverage. Many people trust Redirect Health to offer them better value in their coverage compared to plans they find elsewhere.
Factors To Consider When Choosing Family Health Insurance Plans
After deciding that your best option is to shop for health insurance, you can start to weigh which plan works best for your family. Of course, you don't want to choose just any health insurance, as it could backfire when you need coverage the most. There are seven key factors to consider when comparing family health insurance plans. To find the best affordable coverage for your family's needs, weigh these factors.
1. Plan and Provider Networks
There is no shortage of options when it comes to searching for health insurance plans. However, that doesn't mean any doctor will accept any health insurance plan. Every insurance provider has a network of healthcare providers, and you are limited to this network when you choose a given plan. If you visit a doctor or clinic outside of network, you will have to pay higher costs or pay out-of-pocket.
If you have a preferred healthcare provider or pharmacy already, then you can start your search by seeing which plans have your provider in their network. In your search, ask yourself if it's more important to stay with your current provider or if you would rather switch doctors to receive the benefits of a new insurance plan.
Ultimately, if a plan does not cover visits to many doctors or specialists in your area, then it's a good idea to explore other options.
2. Deductible
A deductible is the amount of money you must pay into your health insurance plan before it will begin to cover certain health costs. For example, a plan with a $1,000 deductible requires you to pay that full amount within the calendar year before the insurance begins to contribute to your healthcare costs. As a result, plans with higher deductibles will cause you to pay more out of pocket when you seek healthcare.
If your family is generally healthy and does not visit healthcare providers often, then you may prefer a higher deductible. However, in the event of a serious health concern, like an injury or significant illness, you will pay more out of pocket.
3. Monthly Premiums
Your deductible and premiums go hand-in-hand. The premium is the amount of money that you pay on a regular basis directed toward your insurance. Whether you are actively using your health insurance or not, you must make consistent payments toward your premiums. Otherwise, you will lose coverage. Premiums are usually paid monthly, but occasionally plans will follow a different timeline.
Generally, plans with a high monthly premium will have a lower deductible, whereas those with a lower monthly premium will have a higher deductible. Plans with lower premiums are better for people who are generally healthy and do not frequently visit the doctor. However, if a family member requires frequent visits to a doctor or specialist, higher premiums can reduce out-of-pocket costs during these appointments.
4. Prescription Coverage
Prescriptions are one of the most consistent costs for people who regularly take medications. With a family insurance plan, prescriptions can add up quickly. As a result, it's important to consider whether a provider is going to cover the medications you and your family members currently take.
To find out whether a plan will cover your necessary medications, explore the provider's formulary, which is a list of medicines that a plan will cover. Any medicines not listed on a formulary must be paid for out of pocket. If you have expensive medications or take several, scanning the formulary should be a priority when exploring health insurance plans.
5. Copays
Although health insurance helps provide you access to doctors and healthcare, it doesn't mean that you will arrive at the doctor and not have to pay anything out of pocket. After looking at a plan's premium and deductible, check the copays and co-insurance requirements.
A copay is the amount you have to pay out-of-pocket for covered services. Similarly, co-insurance is a percentage of medical bills that you are responsible for. For example, a plan might cover visits to your primary care provider, but it still might require you to pay $50 every time you go or send a bill for 20% of the cost afterward.
Most plans have different copays for different services, like primary care provider visits, prescriptions, and specialist visits. If you or a family member plans on visiting a doctor or specialist regularly, you will want to search for a plan that requires lower or no copay with each service.
6. Additional Benefits
On top of offering coverage when you go see a doctor, many plans offer additional benefits that help you manage your health in other ways. For some, the added benefits of an insurance plan are enough to tip the scales when weighing multiple options.
Some examples of additional perks include:
Gym membership discounts
Tele-health options
Free mental health counseling
No-cost preventative care
7. Customer Service
The final point to consider when researching insurance plans is the company's track record of providing for its customers. The best way to gain insight into an insurance company's service is to explore the experiences of current and former clients.
Read client reviews to see how the company handles cases and whether clients receive the support they expect when interacting with the insurance provider. Positive reviews are a good sign that you will enjoy a smoother experience when you need to use your insurance.
Benefits of Redirect Health's Family Health Insurance Plans
At Redirect Health, we are all about simplicity. To provide you with the access to care that you deserve, we offer two straightforward plans—iEverydayCARE and iEverydayCARE Hospitalization. Regardless of the plan you choose, there are six key benefits of affordable direct health insurance through Redirect Health.
1. Affordability
Our plans put affordability before everything else. When supporting your family, you need to save costs wherever you can, and the healthcare system can make it difficult to compare plans and find one that fits within your budget.
When you sign up for a plan through Redirect Health, you save time making comparisons and can trust that our plans are priced with value in mind. At Redirect Health, we use data-driven technology and industry expertise to provide advanced insight into the healthcare system and keep our costs low. Receive a quote today to see for yourself.
2. All-Around Support
With Redirect Health, you can enjoy not just lower premium prices but also peace of mind. Redirect Health does so much more than just provide health insurance coverage—our team will help simplify your entire healthcare journey. Our team will help you coordinate appointments, referrals, necessary prescriptions, and required payments.
We strive to help maintain your peace of mind wherever possible so that your focus can remain on your treatment. From $0 costs for routine primary care to simple and affordable pricing for labs and immunizations, we support you across all points of the healthcare spectrum.
3. Friendly Service
Health insurance and healthcare can be difficult to navigate. It doesn't get any easier when you have to work through automated machines answering the phones. When you contact Redirect Health, you can expect real people to pick up the phone and answer your questions, saving you time and frustration.
Our team is available 24/7/365 through the Redirect Member App for all of your healthcare needs. With the complete trust that you have a partner by your side, you can focus on what matters most—your health. At Redirect Health, we take pride in the fact that our members are pleased with the service they receive from our team.
4. A Wide Network
When searching for health insurance, one of the biggest barriers is finding a plan that gives you access to healthcare providers near you. Redirect Health provides you access to a network of over 700,000 doctors nationwide, helping you find easy access to coverage.
Our plans also feature an open provider network that provides you with the freedom to choose your own physician so you can keep the relationships that you trust. Unlike other plans, Redirect Health makes it easy to find providers near you instead of limiting your options.
5. Efficient Access to Care
In addition to providing access to valuable, affordable health insurance, Redirect Health simplifies your access to healthcare. Our healthcare plans also come with support for accessing doctors and scheduling appointments to save you time and mental energy.
Through Redirect Health, you can quickly schedule an appointment when you need one, minimizing your wait. The Redirect Health Member App also allows you to fill out your healthcare forms online before your appointment, streamlining the process when you arrive in person. Altogether, you can trust Redirect Health to help you get the care you deserve and save you some stress in the process.
6. A Wide Range of Perks
Redirect Health is more than just health insurance—we are a complete partner in supporting your personal health. We help you take steps to promote your overall health, even when you're not sick. To do so, we offer several additional perks beyond just standard health coverage.
On top of our extensive network of healthcare professionals, Redirect Health also provides a wealth of additional benefits, like:
No-cost virtual primary care with appointment preparation and pre-authorization
Unlimited, free mental health tele-counseling
12 free chiropractic visits per year
Low-cost routine care, like labs and immunizations
With these benefits, we work to support you in your overall health and wellness. When you sign up for a Redirect Health plan, you enjoy more peace of mind in your healthcare journey, gaining the resources to not just cover your healthcare needs, but thrive.
How To Enroll in Redirect Health's Family Health Insurance Plans
Redirect Health members enjoy affordable health insurance along with consistent support and peace of mind. From start to finish, we aim to make accessing healthcare easy, beginning with enrollment. You can enroll in our family health insurance plans through a few simple steps.
Find the Right Time
Enrolling in health insurance can have some nuance to it. For example, to enroll in health insurance, you have to wait until the open enrollment period. Open enrollment differs by state, but it is typically between November and January each year.
However, you can also sign up for insurance when you experience a qualifying life event. Some examples of qualifying life events include:
Loss of current health coverage
Changes in household, like having a baby or getting married
Moving residence to a different ZIP code or state
Changes in income
Once it is the right time to sign up for a new insurance plan, you can begin the enrollment process with Redirect Health.
Choose Your Plan
At Redirect Health, we offer two health insurance plans for individuals and families, providing coverage for your personalized needs. The two plans are iEverydayCARE and iEverydayCARE Hospitalization.
Our iEverydayCARE plan provides coverage for all the following areas:
Routine Care
Urgent Care
Labs
Prescriptions and Immunizations
Mental Health Tele-Counseling
Chiropractic
With Appointment Preparation and pre-authorization, routine care, labs, and mental health tele-counseling, our members enjoy $0 member responsibility.
Meanwhile, the iEverydayCARE Hospitalization plan offers all the same benefits as iEverydayCARE, along with these additional coverage benefits:
Specialist Consults and Care
MRI, PET, CT Scans, Ultrasound and Other Imaging
Inpatient, Outpatient, and Emergency Room Hospital Care
The best plan for you will depend on your health history and how often you plan on seeking certain healthcare services. To start comparing plans, you can visit our Plan Comparison page.
Enroll
As soon as you are ready to enroll in our affordable insurance plans, we are here to make the process easy. To start the enrollment process, simply follow these steps:
Choose your preferred plan from our options
Enter your age range and preferred plan
Complete your information through our form
If you have any questions along the way, you can contact our team for support, and we will gladly walk you through the process.
Access Care
Once you enroll in one of our insurance plans, you can begin connecting to care. A Redirect Health plan makes it easy to get support for your healthcare needs once you are officially a member.
After you finish enrollment, take the following steps:
Download the Redirect Health Member App
Contact your care team to discuss your needs
Determine your healthcare needs
Receive quality care at an affordable price
As a Redirect Health member, you will enjoy round-the-clock support in accessing the care you need so you are not alone in the process. We treat every member with special care and attention, so getting you the care you need through an efficient process is always a priority.
Start Browsing Affordable Family Health Insurance Plans
Navigating the health insurance process can be complex, but finding the right plan can make all the difference. As you weigh health insurance options for your family, consider a wide range of factors, like premiums, provider networks, deductibles, and out-of-pocket costs.
At Redirect Health, we strive to make healthcare simple and affordable for families with friendly, easy-to-access support. We prioritize our members and their care however we can, providing the resources needed for overall health.
Explore our plans for yourself and see all the benefits of relying on Redirect Health. To get more information about our plans and all they have to offer, contact us today.