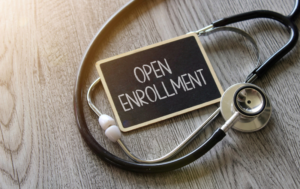 Key Takeaways
● Qualifying small businesses can enroll their employees in health insurance at any point during the year, but the two most common enrollment periods are open enrollment and special enrollment periods.
● Offering small business health insurance is a great way to maintain a motivated and healthy work environment.
● Small businesses can set enrollment periods for new employees or for existing employees to make changes to their current plans.
● Open enrollment happens yearly between November and December, while special enrollment periods occur when individuals have a qualifying life event.
Small business owners who offer health insurance to their employees can experience several benefits, but between enrollment and choosing the right coverage, business owners have a lot to think about.
Understanding health insurance enrollment periods is crucial for small businesses and employees alike. Knowing when enrollment periods occur will ensure that your business and your employees will be able to access and use a healthcare plan that meets their needs.
This guide will cover everything you need to know about enrollment periods for small businesses and when you can get employees on board.
What Are Small Business Health Insurance Enrollment Periods?
Health insurance enrollment periods are designated times when individuals can sign up for a new health coverage plan or make changes to an existing plan. However, small businesses can enroll in group health insurance at any point during the year if they qualify. To qualify, small businesses must meet set criteria with employees who will opt into the plan.
Still, small businesses can choose to set their own enrollment periods for employees. These enrollment periods often occur during the renewal process or align with open enrollment, so it is helpful to understand how enrollment periods generally work.
A business may also choose to establish a waiting period for new employees to enroll in a plan. For example, when an employee first joins the company, a business may impose a 30- or 60-day gap before their health plan benefits activated. It's important for businesses to verify that this waiting period aligns with local, state, and federal regulations.
Small businesses should communicate all enrollment periods, deadlines, and coverage options to their employees.
Types of Enrollment Periods
Small businesses do not need to worry too much about enrollment periods, as they can enroll in group health insurance options at any time during the year. Still, they should be aware of the different timelines, especially if setting enrollment periods for employees. Typically, there are two types of enrollment periods that small businesses and their employees need to be aware of.
Open Enrollment Period
Open enrollment is when anyone can sign up for a new health plan or change their current one. The set dates for open enrollment are usually between November 1st and December 15th, but states can set their own dates, so this period can extend longer depending on the location.
Fortunately, businesses and their employees don't need to wait for open enrollment to receive healthcare coverage, as they can sign up for group health insurance at any point during the year.
However, since contracts with healthcare plan providers are usually 12 months long, the time before renewal offers a chance for businesses and employees to make changes to their current health plan and adjust coverage needs.
Small businesses often set enrollment periods in conjunction with open enrollment to provide employees the flexibility to make changes.
Special Enrollment Period
A special enrollment period is an opportunity for individuals to sign up for health insurance outside of open enrollment. This period can occur at any point during the year as long as individuals meet specific criteria, referred to as a qualifying life event.
Some qualifying life events for participating in a special enrollment period include:
● Change in family situations, like marriage or the birth of a child
● Changes in residence
● Starting a new job
● Loss of previous health insurance coverage due to age or losing a job
The Benefits of Offering Health Insurance to Small Business Employees
By offering health insurance to their employees, small businesses can experience several significant benefits in return. Both current and prospective employees value health insurance, so offering health coverage can support your existing team as well as attract new talent.
Some of the benefits of offering health insurance to small business employees include:
● Higher morale
● Improved motivation
● Better productivity
● Improved ability to attract quality talent
● Fewer employee call-outs
● Better employee retention
● Overall healthier employees
All together, healthy and happy employees create a better work environment with greater morale and improved output. Thanks to these benefits, investing in health insurance often provides a great return for businesses.
How To Qualify for Enrollment Periods
To qualify for health insurance enrollment, small businesses must provide evidence of their legitimacy and have employees to enroll. Most small businesses will easily qualify as long as they meet a few simple requirements.
To qualify for enrollment, small businesses must have:
● Documentation that you have an established business, like articles of incorporation or a business license
● Two or more full-time employees, including yourself and at least one other full-time employee
● At least one full-time employee who opts to enroll in the plan
● The willingness and ability to pay at least 50% of each employee's monthly premium
Of course, rules and qualifications can vary depending on the group health insurance plan or provider. Be sure to consult your tax, accounting, and legal advisors to determine your eligibility and needs for a group health insurance plan.
Employees should be aware of upcoming enrollment periods to ensure that they can enroll in a health plan or adjust coverage. New employees can enroll in an employer's health plan as soon as they begin a new job or after a waiting period set by the employer.
Selecting the Right Health Insurance Plans
As an enrollment period approaches, you should research available plans to help you get a grapple on what options you're interested in before it's time to enroll. Getting started early will give you plenty of time to consider your needs as well as what your employees are looking for so that they are more likely to use the health plan.
When choosing health insurance plans, consider the following factors:
● Budget – Employers are typically expected to pay at least 50% of employee premiums, depending on the plan. From there, employees cover their portion of the premiums, co-pays, the deductible, and any out-of-pocket expenses. Be sure to choose a plan that works for your budget and doesn't require your employees to overspend either.
● Coverage – Before deciding on a health plan, consider which health services are covered and what providers are covered under the network so that you and your employees will be able to use the health plan to its full benefit.
● Employee needs – Consider what your employees want and need from a health plan. Consider sending a survey to gather their thoughts and preferences. This will ensure that your employees will find the plan useful and be able to make the most of it.
Navigating Through the Enrollment Process
Once you decide on the right plan for you and your employees, you can tackle the enrollment process. Health plan enrollment is not necessarily difficult, but it can take time and attention to detail to make sure nothing gets overlooked.
A broker or agent can be an excellent resource for helping you navigate the enrollment process. They can help you compare plans and weigh your business needs to determine which plan is the best option for you and offers the ideal employee benefits. Brokers and agents can also help you get your employees enrolled.
At Redirect Health, we aim to make the enrollment process as simple as possible. When you're ready to sign up, simply choose your ideal plan and enter your information. From there, our team will reach out to you within a few business days to ensure you're all set up. You can sign up at any point during the year to start saving on your health coverage with lower rates and more efficient access to care.
How Redirect Health Can Help Small Businesses
Although qualifying small businesses do not need to worry about enrollment periods as much as individuals, they should be aware of the dates and know what to expect during these times. Understanding health insurance enrollment periods can help businesses ensure their employees have the personalized coverage they need.
Whether you have two or two hundred employees, Redirect Health healthcare plans provide an excellent healthcare coverage option for small businesses. With consistently low rates, easy access to care, and a level-funded model that protects business's claims dollars, our plans provide small businesses with a reliable and affordable alternative to expensive insurance plans.
Explore our small business health plans for yourself and see the quality coverage you can offer your employees to keep your business functioning strong. Contact us today to learn more about all that you stand to gain from Redirect Health.